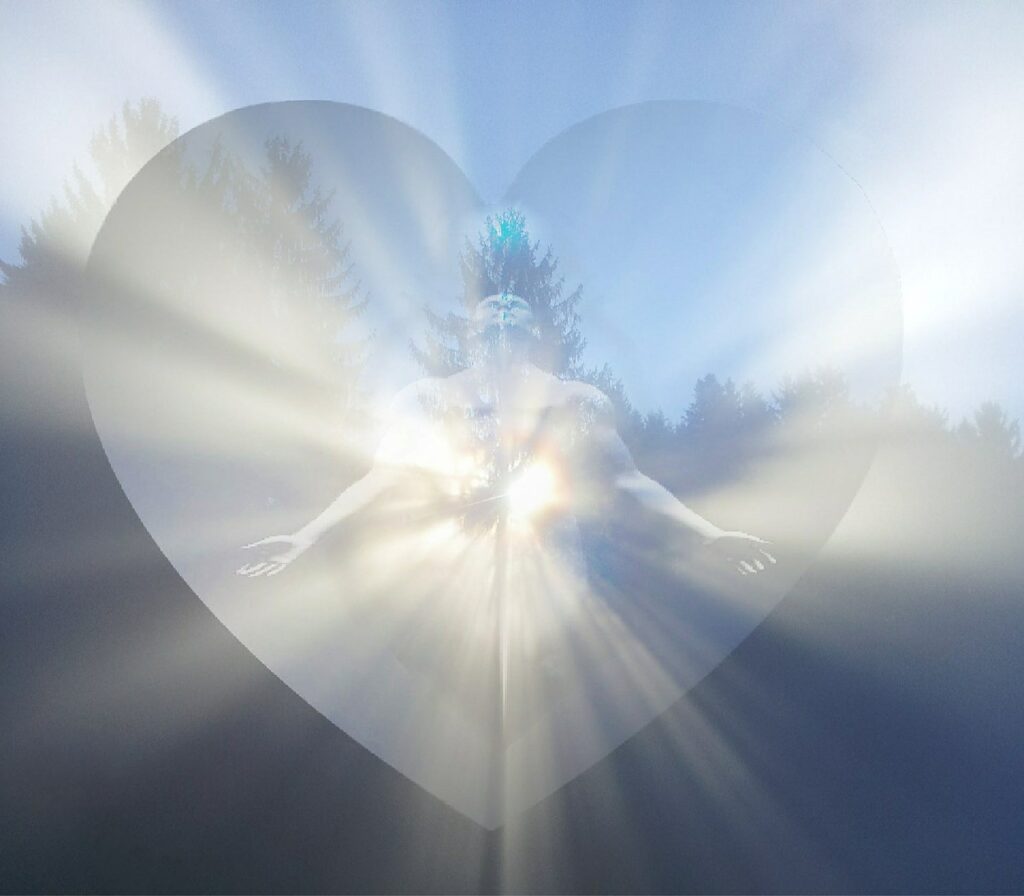 In this chaotic world, it is easy to lose the feeling of connection with God, Creator, the Great Mystery, or whatever name you give to that which really is beyond all name or label.
You begin to look outside of yourself, and what you see can be horrifying. Unloving acts of terror. Regular assaults on the environment and Mother Earth. Bosses who treat you like a slave. Companies which routinely take your money, and don't deliver what they say you are paying for. Drivers who cut you off, or won't let you merge into their lane. People who are rude to you, and don't seem to care at all.
How can you feel connected to God, when you are trapped in this nightmare?
First of all, consider that it is indeed a nightmare, one that you can wake up from. Look inside you. There you will find your connection to God. Inside you is a subtle energy power. It may look like space, like nothing at all, but you will be in awe of its power. Physicists have even confirmed that within 1/5 teaspoon of space lies more power than in all the material known universe combined.
Within this space is beingness. And this beingness is God.
You are connected to God in ways you may have never imagined, if you generally think of God as a fatherly being who resides outside of you.
But even Jesus taught, through metaphor and parables, about the many forms of God: God as light, God as love, God as Father/Creator, God as Son, and God as Holy Spirit.
Consider that you are one in being with the Father/Creator. That this beingness flows through you, is felt as a subtle energy presence, and is what is described as Holy Spirit.
Imagine Father/Creator energy as Spirit taking shape as material form. Then all forms are one in being with the Father, for they are God at their Source. At your source, you too are one in being with the Father. Your soul is a cell in the body of God.
A marriage takes place between Spirit energy and material form, giving birth to the Son, Love energy itself. Love is a fundamental field of energy. The unifying force of Spirit and matter, which swirls us all together as one being.
This unified field is called by us the field of consciousness as a whole. It is Christ Consciousness itself, which Jesus came to radiate into the world. It is the primary field which serves as a template or blueprint for forms to materialize, as they transform from one form of energy to another, from torsional fields of superluminal light to the slower light electromagnetic bodies we usually think we are.
Through this transformative process of creation, as you are birthed into the individual soul consciousness that you are, first you are Love, Consciousness itself, then you take shape as you.
Re-turn to this connection that you inherently have with God. You are one in being with God, birthed as love, light, pure consciousness at your core, and clothed as a son or daughter of God.
The feeling of subtle energy presence, the awareness of the Holy Spirit, courses through your veins as a reminder of who you are. An interconnected part in the Whole of All That Is that we name God.
Be true to who you are. When you do, you radiate love to all who surround you, serving as a cell in the body of Christ consciousness, which is Love. From this state of your highest consciousness, you are in touch with God consciously; you register, through your intuition, your highest purpose for being here now; and you know what you are called to create through the love that you are.